Courteous, Professional Care for You and Your Vehicle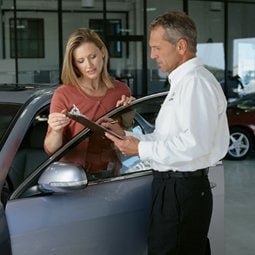 You already know routine maintenance is the key to keeping your F-150, Escape, Explorer, Bronco Sport or Ranger running like new for a long time. Valuable services such as oil changes and tire rotations are essential to the lifetime of your vehicle. They're also important because they help prevent your vehicle from developing larger, more complicated maintenance issues down the road. Don't trust that important service to just any garage. Trust the Ford trained and certified service center at Platte Valley Auto Mart.
What Ford Services Do We Provide at Platte Valley Auto Mart?
Does your F-150, Escape, Explorer, Bronco Sport or Ranger need an oil change? Have you discovered that your brakes are becoming too worn? Has your car been acting strange? Whatever the reason for your service visit, we're ready to give you the highest level of care possible. When you visit us in Lexington, you can get the high quality of care that you deserve so you can enjoy your drive for as long as possible.
Contact Our Lexington Service Team to Schedule Ford Service
Don't put off service for your Ford F-150, Escape, Explorer, Bronco Sport or Ranger until there is a more significant issue. When you place your trust in our service experts, you will discover how easy service for your crossover, SUV or truck can be. Simply contact our service team to schedule an appointment, drop off your Ford vehicle, and wait a short time for it be completed. If you have any questions about our services or you're unsure what is needed, our service team can help provide the answers you need.